Warrants Alert Newsletter
Warrants Alert is a 16-page monthly newsletter.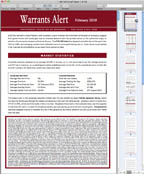 Since 1989 the newsletter has set out to find the bargains in the warrants market through a combination of research and sophisticated analysis. It advises you which warrants to buy (and why) and also when to take your profits.

Warrants Alert is written by the warrants expert Andrew McHattie, and in our view no private investor can hope to match his rigorous approach and proven track record. No other publication can unearth the great untapped potential of warrants with such accuracy. The opportunities for huge profits are clearly there: Warrants Alert gives you the chance of finding them without an equally large investment in time and technology.